Immunis HBV Genotype EIA
Immunis HBV Genotype EIA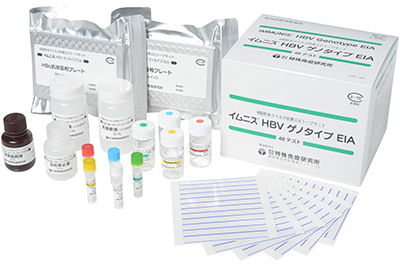 There are eight genotypes (genotype A to H) of hepatitis B virus (HBV) which are distinguished by > 8 % difference in the nucleotide sequence of the HBV genome 1, 2). Genotypes A and D are common in Europe and the United States, while genotypes B and C are prevalent in Asia. Genotype F is frequent in Latin America, while genotype E is confined to Central and Western Africa.
Many studies indicate that HBV genotypes influence the severity of chronic hepatitis B and the response to interferon therapy. HBV genotypes have been determined by tedious methods such as direct sequencing, genotype-specific PCR, PCR-RFLP, line-probe assay (LiPA), or PCR-invader assay.
This product is an enzyme immunoassay (EIA) based HBV genotyping kit, designed to determine genotype (A, B, C, or D) by detecting genotype-specific epitopes in PreS2 region 3-5).
Purpose

Hepatitis B Virus serological genotyping in human serum (Genotype A, B, C, or D)

Features

The first diagnostic reagent for determination of HBV genotype launched in the Japanese market Fast and easy detection based on one-step EIA method 98% of samples with HBsAg concentration of >3 IU/mL can be genotyped (unpublished data) Sample volume: 80μL of HBsAg positive serum Stored sample can be used 4 wells/sample Reaction time: 2.5 hours

Product Name

Immunis HBV Genotype EIA

Product Code / Package

1A65 48 test

JAN Code

4987591012062

References

Okamoto H, Tsuda F, Sakugawa H, et al:Typing hepatitis B virus by homology in nucleotide sequence:comparison of surface antigen subtypes. J Gen Virol 69:2575-2583, 1988.
Arauz-Ruiz P, Norder H, Robertson BH, et al:Genotype H:a new Amerindian genotype of hepatitis B virus revealed in Central America. J Gen Virol 83:2059-2073, 2002.
Orito E, Ichida T, Sakugawa H, et al:Geographic distribution of hepatitis B virus (HBV) genotype in patients with chronic HBV infection in Japan. Hepatology 34:590-594, 2001.
Usuda S, Okamoto H, et al: Serological detection of hepatitis B virus genotypes by ELISA with monoclonal antibodies to type-specific epitopes in the preS2-region product. J Virol Methods 80:97-112, 1999.
田中靖人、菅内文中、松浦健太郎、他: 「イムニス HBV ゲノタイプ EIA」の基礎的・臨床的検討.臨床病理 57: 42-47, 2009.
Kobayashi M, Suzuki F, Arase Y, et al:Infection with hepatitis B virus genotype A in Tokyo, Japan during 1976 through 2001. J Gastroenterol 39:844-850, 2004.
Suzuki Y, Kobayashi M, Ikeda K, et al:Persistence of acute infection with hepatitis B virus genotype A and treatment in Japan. J Med Virol 76:33-39, 2005.
Ozasa A, Tanaka Y, Orito E, et al:Influence of genotypes and precore mutations on Fulminant or Chronic outcome of acute hepatitis B virus infection. Hepatology 44:326-334,2006.
Kao JH, Wu NH, Chen PJ, et al:Hepatitis B genotypes and the response to interferon therapy. J Hepatol 33:998-1002, 2000.
Wai CT, Chu CJ, Hussain M, et al:HBV genotype B is associated with better response to interferon therapy in HBeAg(+) chronic hepatitis than genotype C. Hepatology 36:1425-1430, 2002