Human Cell Reprogramming
The iPS cell technology originally discovered in Japan is becoming a powerful and essential tool in the field of biomedical sciences, especially for drug discovery screening. Our service is now being developed to provide iPS cells established by human cell reprogramming to scientists as research materials. In addition to the reprogramming, we will establish genetically modified iPS cells by genome editing technology to create in vitro human disease models.
How to establish human iPS cells
We establish and provide human iPS cells by transfection of the episomal vector into human peripheral blood mononuclear cells (PBMC).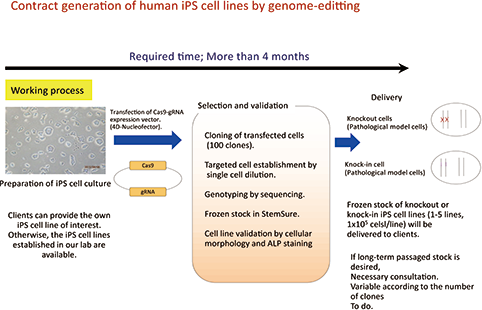 1. Preparation of human PBMC (about 1 week)
Clients will provide the human PBMC available from Wako Pure Chemical Industry inc. in a frozen stored vial. Then, the frozen vial are thawed and the PBMC is cultured for transfection.
2. Reprogramming of human PBMC (about 5 weeks)
The cultured PBMC is transfected with the 5 episomal vectors (cyclic DNA: Epi 5 Episomal iPSC Reprogramming Kit) using 4D-Nucleofector ™ (lonza). Transfected PBMC is cultured in N2B 27 medium and Essential 8 medium in a laminin coated plate (iMatrix 511) without feeder cell layer. When it becomes colonies of an appropriate size, the colonies are dislodged from the cell plate and pull it into 96-well plate. After several times passages using Y-27632 added medium, transfected cells eventually expand to 35 mm plate to banking. The reprogramed cells (0.8 to 1 × 106 cells/vial) are frozen for stock and validation in StemSure® hPSC cryopreservation solution, AF.
3. Cell line validation (1-3 weeks) Because newly established iPS cells have a various characteristics by each cell line, we validate the established iPS cell lines by following assays. (Some of them need an additional fee.)


Staining of iPS cell specific surface antigen & lectin (live cell staining)
Alkaline phosphatase staining
Pluripotency verification by in vitro functional differentiation (R&D, Human Pluripotent Stem Cell Functional Identification Kit)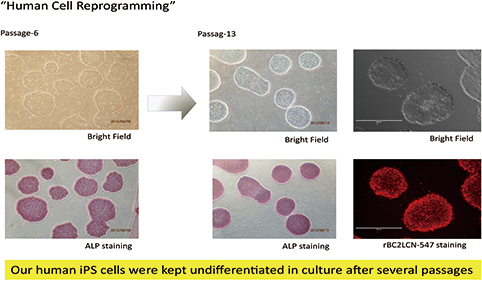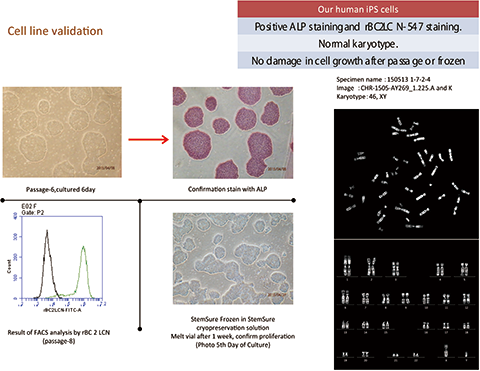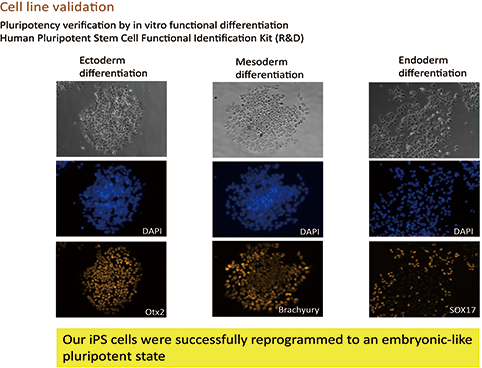 Genome editing of human iPS cells
We transfect Cas9-gRNA expression vector for targeted genome modification of human iPS cell lines. You have a reasonable chance to obtain a homozygous mutant, moreover a multi-genes homozygous mutant human iPS cell line by CRISPR.