High Quality Monoclonal Antibody Production Service
Since our foundation in 1979, we have offered high quality monoclonal antibodies production services for over 1,000 projects. With three decades of antibody production experience and expertise, our services are highly evaluated and widely used. In order to meet the specific requirements of the customers and to develop a customized strategy to generate the best antibody, features of the antigen as well as the procedures of the service to be performed are discussed in detail prior to the initiation of the service. Our monoclonal antibody production service is divided into different phases. Upon completion of each phase, the results are reported to the customers. Customers have the option whether to further proceed or to terminate before the initiation of the next phase. This flexible service allows customers to pay for only the phases that are completed.
Basic process
Process
Detail
Period
Immunization
BALB/c mice; 3 mice
1~2 months
Fusion~Screening
"Fusion, Hybridoma screening (2 times)"
~1 month
Cloning
Up to 5 clones with requested specificity will be selected for cloning.
~1 month
Ascites production
2 mice are inoculated with each clone for ascites production.
~2 months
Purification
Acites produced in mice is purified by ummonium sulfate fractionation
Evalution of antibody
Binding Titration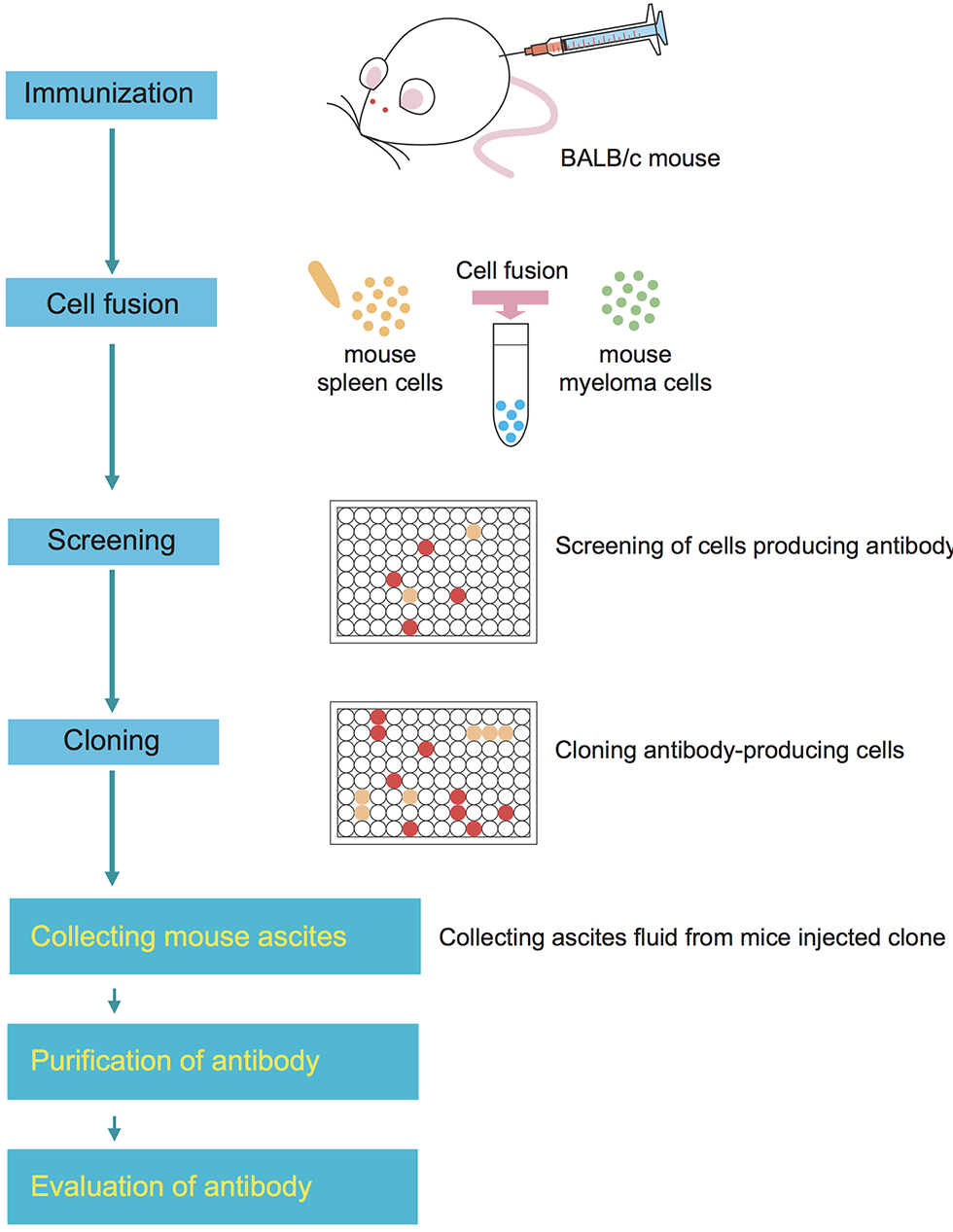 For details, we will create a quote so please contact us.
Institute of Immunology Co., Ltd.
Nissei Bldg. 1-1-10, Koraku, Bunkyo-ku, Tokyo 112-0004, JAPAN
Tel +81-3-3814-4081 Fax +81-3-3814-5957
e-mail : info@tokumen.co.jp
http://www.tokumen.co.jp/en/