MR Urea
Modified Rapid Urease Test based on Urease Method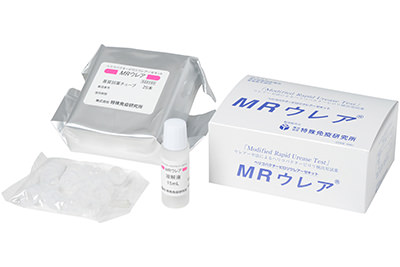 Since isolation of helical gram-negative bacillus from gastric mucous membrane biopsy sections and its cultivation by Warren and Marshall in 1983), many reports have been made suggesting its strong association with gastritis and duodenal diseases. Initially, it was called Campylobacter pylori, and since 1989, upon proposal by Goodwin, et al., it has been called Helicobacter pylori (H. pylori).
For determination of infection with H. pylori, there are i) culture method, ii) histological microscopic observation method, iii) urease activity detection method, and iv) antibody detection method.
This product allows determination of H. pylori by urease activity detection method.
Purpose

Detection of H. pylori in gastric or duodenal mucous membrane tissues

Features

Urease activity can be detected at high sensitivity in a short time Simple operation without requiring any special tool, reagent or equipment

Product Name

MR Urea

Product Code / Package

1HA1 25 tests

JAN Code

4987591013014

References